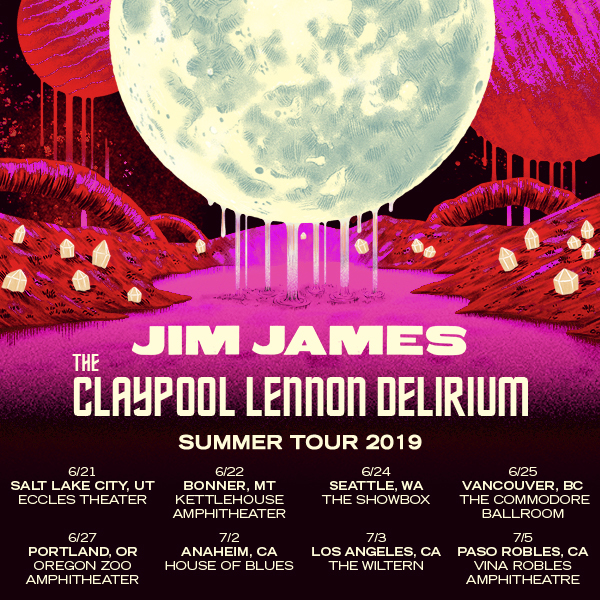 Mar. 5.2019
Jim James & The Claypool Lennon Delirium Announce Co-Headline Tour
At 6:00 AM
Jim James and The Claypool Lennon Delirium have announced plans for a summer 2019 co-headline tour. The two acts will join forces for nine dates across the United States and Canada - beginning June 21 at Salt Lake City's Eccles Theater and then continuing into early July.
Find tickets here
.
"For over 150 years, the firm of Claypool and Lennon has been providing clients with only the finest in rock and roll delirium and stark raving madness. This summer, I am excited and honored to say that we will be teaming up to offer a brand new twist on one of the most time tested and proven methods for inducing beautifully swirling and whirling delightfully delicious delirium: the healing power of rock and roll!" said James.
"Tour pairing is often a challenge in my world but I think we have a good package with The Delirium and Jim James. Jim's music, from my perspective, is palatable to the masses yet has just enough eclecticism to keep an oddball like me intrigued. I look forward to shambling around the country with him," said Les Claypool.
Presales begin Wednesday, March 6 at 10 am (local). Local presales follow on Thursday, March 7 at 10 am (local). All presales conclude Thursday, March 7 at 10 pm (local). All remaining tickets will then be released to the general public on Friday, March 8 at 10 am (local). In partnership with RPM, $1 from every ticket purchased for the Jim James + Claypool Lennon Delirium Summer 2019 Tour will benefit My Morning Jacket's Waterfall Project, this time benefitting the Young Authors Greenhouse, a nonprofit organization in Louisville, KY that inspires students ages 6-8 from diverse communities to grow their imaginations through writing.
JIM JAMES + CLAYPOOL LENNON DELIRIUM
SUMMER 2019 CO-HEADLINE TOUR
JUNE
21 - Salt Lake City, UT - Eccles Theater
22 - Bonner, MT - KettleHouse Amphitheater *
24 - Seattle, WA - The Showbox
25 - Vancouver, BC - The Commodore Ballroom
27 - Portland, OR - Oregon Zoo Amphitheater
JULY
2 - Anaheim, CA - House of Blues
3 - Los Angeles, CA - The Wiltern
5 - Paso Robles, CA - Vina Robles Amphitheatre
* = w/ Built to Spill